About Bagtap
Bagtap - the innovative luggage tag
Our Bagtap is a innovative address tag for suitcases, bags or backpacks, on which you can store your data digitally. In the following sections, we would like to explain the advantages of our Bagtap compared to conventional luggage tags.
On common address tags, the owner's data is usually written down or engraved. Data, that is written down or engraved, can easily become blurry and unreadable. In addition, standard tags are limited to a small amount of information and cannot easily be changed afterwards. Of course, you want your suitcase or bagpack to find its way back to you intact, but you would not necessarily like to have sensitive data such as your telephone number or address to always be visible. Bagtap is a solution for all these hassels.
Convinced? Then click below to go to our shop. In the following sections we would like to explain the advantages of Bagtap to you in more detail and how to proceed after receiving your first Bagtap. We would also like to explain to you, which technology is hidden behind our Bagtap.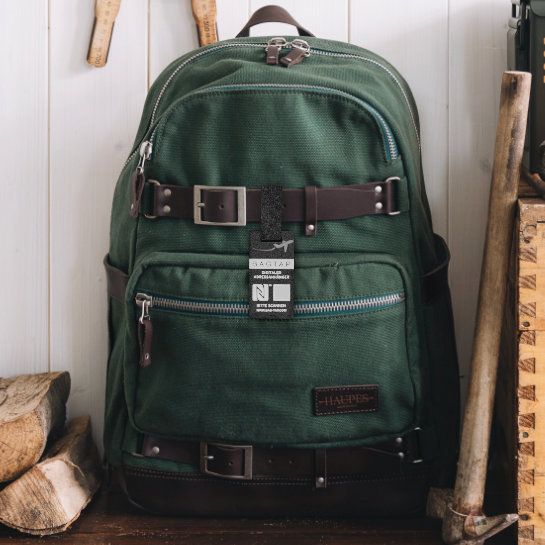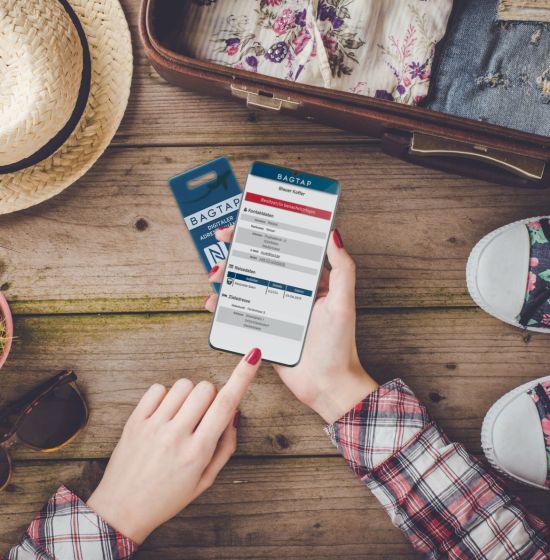 What is so special about Bagtap?
Bagtap is linked to a personalized online profile on the tap21 web platform where your profile is stored. You can decide for yourself which data you would like to have visible. Thus, the online profile identifies you as the owner of your bag or suitcase and helps you in the event of loss. You have the possibility to easily and quickly save more than one piece of information about yourself. You could for example also store travel-relevant data, such as the name and telephone number of the hotel where you are staying.
To store data, simply scan your Bagtap with your smartphone. Once you have logged in to the tap21 web portal, you can start editing your profile. Of course you can also access our web portal via your browser without scanning the Bagtap first. For more detailed instructions, please visit here. To find out how to keep your contact details visible or hidden, take a look into our help section.
Another goal that we pursue with our Bagtap is to make it as easy as possible for you to retrieve your data. To see the data that is stored on your Bagtap, you only need to scan the Bagtap with your phone and your online profile will be displayed immediately.
What are the advantages of Bagtap in comparison with other adress tags?
The materials that are used to produce our Bagtap make it robust and durable. Since the data is not stored externally, it cannot become blurred or illegible.
The second advantage is that you can easily add or change information via the linked online profile. Your data can be changed from anywhere at any time. Of course, only you can edit your data.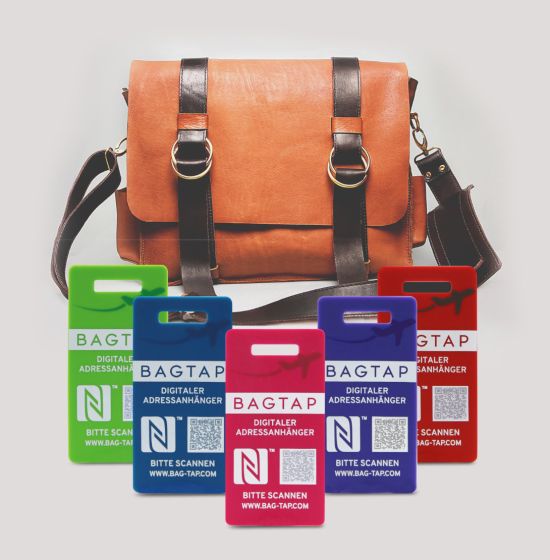 The use of innovative technology
Bagtap uses Near Field Communication (NFC) to store data digitally. Bagtap contains a NFC Chip on which data can be stored. With the help of NFC it is possible to exchange data wirelessly over short distances. In contrast to Bluetooth, NFC is even simpler and much safer. If you would like to read more about NFC, take a look into the detailed info area of NFC-Tag-Shop.de.
The NFC chip is integrated inside the Bagtap so that it is not visible from the outside and therefore well protected. It is made of PVC and has an additional epoxy layer. This makes the Bagtap weather- and waterproof.
Bagtap can be used by all NFC-enabled smartphones. For smartphones that do not support NFC, the Bagtap has a QR code which can alternatively be scanned.